Ruminations
So, as one can imagine by the (this time unapologized for?) radio silence since
January
life has become very busy and very...private. Lots happening: prepping for Jules getting married, Jules carrying little Jaimie (yay!), welcoming in Jay (double yay!). All of which, unfortunately, it's taken me a bit to adjust to. But things are well, and very well now. Thank God! And academically, wrote three and a half plays in the past school year, two produced: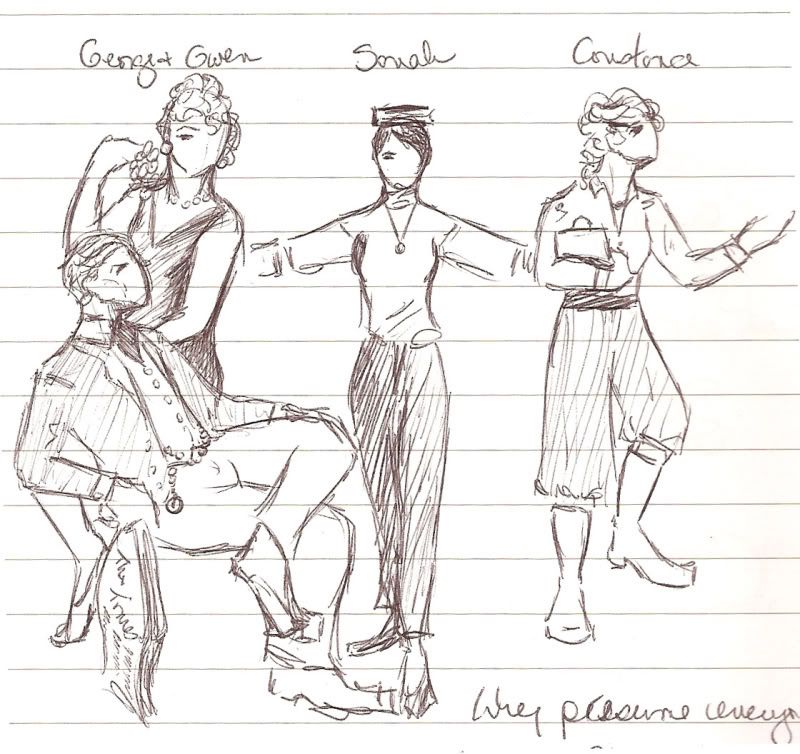 In Memoriam - a full-length Anouilh-esque play about a fellow who hires others to play his memory over and over again. Basically, either Hell or Purgatory. I'm actually rewriting the last two acts (it's a four act play) by the 30th of this month for my playwriting class. It's dreamlike and macabre - a new form for me. I'm...not sure about entering back into it. Acts I and II are very strong - I just need to let Act III and Act IV do what they want to do and not worry so much about form but make a good play.


Pink Noir - a one-act play (about 25 minutes)...well, musical (only four songs!)...that has fun with the tropes of private eye/film noir movies. Joe Smith, P.I. is hired by the requisite blond bombshell to find her missing husband - but it turns out that her husband is himself. It was fun writing overlapping present and flashback scenes. We're rehearsing right now and it's looking good!


The Steadfast Tin Soldier - this is the half a one! I wrote about half of this one-act opera, meant for young audiences, based loosely on the Hans Christian Andersen tale. I wrote quite a bit of the music somewhere in tech week for Romeo and Juliet, and then wrote and orchestrated quite a bit more for Bob's Theatre for Young Audiences class...but then had, oh, life intrude and actual deadlines. Operas/musicals always take me much longer to write than plays, though. (By and large - actually, Pink Noir was written in maybe a week total? But that's just a little one.)

But I have been singing a lot the bit right before Scene 2, when Corianna sings: "Stay and fear in here?/No!/I want to live/Want to love/Want adventure I/Won't be stuck in here just/Waiting around/And I'll never be found/And that's fine with me/I'm finally free in this/Wide, wide, wide, wide world/In this wide, wide, wonderful world...!" Just been sitting and resonating with a wee bit!


Cupid and Psyche - the big one. First play in iambic pentameter, but God willing, not my last. (See below.) The experiment was less with writing in verse, although that was very cool - over the course of eight months, I wrote the script, but I didn't write during all those eight months. All told, it took about three to three and a half months to write. Rather, the experiment was more to learn how to be just the playwright, without directing. That's what I need to...think, feel, ponder, digest, consider, parce out still. More in a minute.


Actually, last night after the closing of Cupid and Psyche, after going out for Chinese with the family, I tried a stab at Antigone in iambic last night. (Insert laugh or eyeroll here.) Got some good stuff, but I'm not convinced where I began is the beginning. I think, actually, that I'm going to end up writing it as the Sophoclean/Euripedean trilogy: Oedipus, Seven Against Thebes, Antigone. I'm cool with beginning at the end, although I think that looking at the middle play will really inform much about the third. It might be interesting, though. It's time to bring back stage trilogies! Why not?


But Mom said how much she loved Dad this afternoon at lunch, and it was so sweet (their 30th anniversary is this weekend) and it made me think that I had the idea of Creon/Eurydice all wrong. They should be very loving. It'll be a great juxtaposition. And then I read about some local scandal in politics just after that, with bedroom deals, and I thought that was part of what's going on in Thebes as well. So, I'm still gathering thoughts. But I do know that either in I.1 or in I.2 I'm going to let Creon pull a Claudio in Hamlet I.2 and hold a press conference. Also, Seven Against Thebes is going to be (gasp!) driven by actors! and not actresses! - and I'm really OK with that. Should be fun. Secret truces and betrayals and Saint Crispin day speeches and Iliad-like creeping through camps. Boys' schools should have fun with it. I wonder if any women will be involved...well Eurydice anyway. Maybe Ismene doesn't go to Colossus wih Oedipus?


Yes, yes, I know. Cupid and Psyche closed last night. I have to rewrite In Memoriam. Heck, I just finished writing my thesis (more in a second) and have to do the appendices, rewrite whatever needs rewriting, and then defend at some point. And direct Pink Noir. I could also use a job. But, as I catalogue this, I remember why I'm taking time to just do school. Brenda laughed at me - and I'm sure Jules would as well - when I complained to her two weeks ago that I just couldn't find the energy to write my thesis and I felt all sorts of guilty - and she pointed out that I had been writing just a little bit! Which, looking at this catalogue, I guess is true! More than I'd realized. Which is why, I suppose, my professors seem to think I'm a writer. Which is just really amusing to me, because I feel as though I haven't written in forever - not since 2001-2002 when I wrote Niamh and the Hermit.

Because, somehow, Charming the Moon, The Passion Play, King of Fools, Nutcracker, Bearskin, and Wallace's Will DON'T COUNT. I mean, clearly, "they count." I like 'em very much. They need some rewriting - KOF and Bearskin most of all - and someday this millenia Wallace's Will might actually be available from Playscripts.com(they just got my photograph up...holy cow! - OK, that's neat!). But...I feel as though they're finished. Not finished, no - KOF and Bearskin weigh heavily upon me for the rewrites they need - but that they've been done well and so will be fine if they are done well again later but can rest easy for a while having been done well once.

But Cupid and Psyche - this is very new experience. It does not feel at rest, although this production is at rest. I woke this morning with lines running through my head, like music. At mass today they mentioned Love and I felt a sudden, "Awwwww," of missing the play. And yet, not missing it. I will live with Cupid and Psyche forever. It's just odd...to see my child take corporeal form and then to disappate, but to know that it's still there, waiting to be incarnated once more.

It's like this: when I direct, I play in the world, I help create the world. So when I come out of Romeo and Juliet or Hamlet, it isn't really Romeo and Juliet or Hamlet I miss, but OUR Romeo, OUR Juliet, the world of OUR Hamlet. I see other versions and see it from the outside, not the inside. But I think if ever I see my own play done by anyone other than myself, I see the play from the inside only and I find it very difficult to judge the outside. It's like, when one of my plays is performed, I myself am resurrected and have only a dim vision of what the audience looks like or thinks or feels. My judgement is completely clouded o'er. (Yeah, I'm currently incapable of thinking outside of dim poetics thanks to tech week!)

I was freaking out after the open dress and the first performance. I had no sense of how the play was received. I couldn't quite see what was a textual difficulty, an actor difficulty, a director difficulty, a design difficulty, or all or some or none of the above. I needed to go invisibly into the audience's mind to see their true thoughts, but I was too afraid to do so. I picked up tape from the floor instead. I sang opera. On my hands and knees, scraping up tape, singing runs in Italian to calm my nerves. That's me. Stupid stupid stupid. Bob came up to meet me after the performance - he said the play was "Ambitious." That does not necessarily mean "good." In fact, it often can mean, "Very not good." I said, "I don't know how to feel right now." He, bless his hippy heart(!), said, "It's OK. You don't need to feel right now." I love Bob. Fear what he really thinks. But love him.

Second performance went much better. Snyders and Gonors in the audience. Energy higher. Got lost getting to the venue. Don't want to think of what an ass I am. Hate Boston when it decides to switch the drive. Frak. Cupid was in the car, too. Way to hold up half the show, Em. But it made ALL the difference to have my family there - for their clear sight and vision, being able to lend their outside sight to mine so thoroughly out looking in. So, I know that I freak out before seeing (at least the opening of) a play I've written but not directed and that from now on I need a family member there, or someone to be my seeing-play person. I need a pair of eyes that are not mine when I am only the playwright. Ironic, given what Cupid and Psyche is about.

Anywho, still figuring out, but thought I'd put those thoughts out there. Now to C&P dinner at the lovely Brenda's. Nothing due tomorrow. Nothing nothing nothing tomorrow. I'll probably end up going to Border's Cafe and writing Antigone or In Memoriam instead. Oyveh! Right. Right right right.

Wow. It's been a week. Oh, and my thesis turned out well, I think. Only 17 pages over. Silly, Emily, silly, silly.

Mood: Ambiguous - but not coquettish!
Music: "Awake & Dreaming" by Courtney Jones
Thought: Oh! While I was watching C&P, I was remembering how hard I worked to make Psyche not me. I really didn't want to - is it Mary Sue? Mary Jane? - her. And I thought I'd done a decent job. During rehearsals, she seemed like Psyche, not like Emily. But when I watched the whole play together, I had the breath knocked out of me as I watched her and realized, "My goodness. That's a portrait of me. I wrote what I thought I'd hidden." *breath*